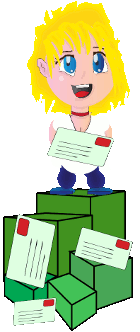 July 2018 to October 2018
Young men between 13 and 17
results: 1 - 10 of 10
1 - Ariel Lester C. Am-is Jr. (15/M) - 2018-09-05 03:46:13
Philippines
Email:
Languages:
English & Spanish
Hobbies/Interests:
Dancing, reading books
Introduction:
Hello!!! I am interested in finding some friends over the internet. I am inspired by my friend that collects stamps and I also want to do it. I am a high school student in a science high school in the Philippines. I hope we become friends. :) I like KPOP and IM A ONCE :))) mabuhay!!!
Updated since 2018-09-05 03:36:35
2 - Vinura (15/M) - 2018-09-10 20:22:32
Sri Lanka
Email:
Languages:
English
Hobbies/Interests:
Swimming, Watching movies, Playing video games, Reading, Collecting stamps
Introduction:
Hi I'm Vinura. Please call me Vinu. I like to have many friends in different countries I like everyone and I like to share real letters.
3 - Abdellrahman (16/M) - 2018-07-30 13:03:09
Egypt
Email:

Hobbies/Interests:
Reading and watching movies
Updated since 2018-07-30 13:01:02
4 - Jacob Reilly (16/M) - 2018-10-21 14:25:13
United States
Email:

Languages:
English & French
Introduction:
Hey :) I am Jacob. I am 16 from America. I love photography, poetry, books, learning languages, learning in general lol, cats, and other stuff... (can't think of them right now). But yeah, HMU to start talking :) Anyone and everyone is welcome to talk to me lmfao. I don't think our differences should hinder us from being friends (I'm gay). I'd love to talk to everyone about anything in regards to everything else. I am openminded and easy to talk to... so you don't have to worry about being judged or anything like that by me :)) I love you all... and I hope that I could meet some new friends xx ALSO: Email is the best way to chat with me :))) jacobreilly16@ gmail. com ... Okay, Thanks :)
Updated since 2018-10-14 15:28:57
5 - Bobby (17/M) - 2018-07-14 11:25:00
United States
Email:
Languages:
English
Introduction:
Hi my name is Bobby and I like Nascar and Beyblade. I have two dogs and a bunny. I am gonna be a senior in high school next year.
6 - Convoluted Nameless (17/M) - 2018-09-01 10:45:58
Poland
Email:
Languages:
English
Hobbies/Interests:
reading, writing, watching TV shows, football, tennis
Introduction:
[Before going any further I would like to leave a notice: I do not wish to talk to LGBTQ+ people, nor with political and ideological preachers. I have enough leftist, socialist, marxist, communist and nationalist propaganda in my country and on my newsfeed on Facebook. I do not need extra in my email. Thank you.] Greetings internet folks! I'm The Convoluted Nameless. I'm a 17 year old chap from Poland seeking some long-lasting friendships with people around the world through regular e-mailing. I've had a person write to me who responded back after two weeks and after the next email? Haven't heard from her yet. Please do not waste your or my time if you know you can't respond in a regular manner. I am a entertainment enthusiast. I watch TV shows that usually are considered for geeks but not only. Except Arrow, The Flash, Young Justice, Star Wars: The Clone Wars, Rebels and so on, I've watched shows like Fargo, 12 Monkeys, CSI: Las Vegas and New York. From comedies I like The Big Bang Theory, Two and a Half Men and South Park(but that's more of a satire). Currently I'm at the beginning of the second season of Peaky Blinders. I'm a sci-fi person and my favorite theme is time travel, which is why I am really into 12 Monkeys(highly recommend it). I'm also an avid book reader, mostly the same taste. I'm currently reading The Naked Sun by Isaac Asimov. From the more known teen stuff I've read The Maze Runner series by James Dashner and the Alex Rider series by Antony Horowitz. From movies I really liked V for Vendetta, Looper, Nolan's Batman Trilogy and of course Star Wars. I don't like small talk. That's not something I want to base our correspondence on. I'd like to exchange long emails even at the cost of them being less frequent. If you are thinking of writing to me, please introduce yourself in a similar manner to what I have done. I'd be really happy if you used as many words as you see needed. As long as it doesn't feel bland. Makes me think if mine sounds like that right now. Oh well.
7 - Ethan (17/M) - 2018-09-26 00:57:05
United States
Email:

Languages:
English
Hobbies/Interests:
Music, playing instruments, food, tea
Introduction:
Hi, Iím want to share my life and talk with someone and you can do the same with me. Iíve always wanted to talk to someone I donít know and possibly wonít ever meet, not in a bad way, but just because it may never happen. I hope someone feels the same way lol. Anyways Iím 17 and from the US. Hope to talk to someone!
8 - Jankin chow (17/M) - 2018-09-20 01:23:37
China
Email:
9 - MaximeAlpha- (17/M) - 2018-08-27 13:58:21
Antarctica
Email:
Languages:
French, English & Spanish
Hobbies/Interests:
Literature , Chess , Language , Zoology , Web
Updated since 2018-08-27 13:54:13
10 - Yosua Tomasoa (17/M) - 2018-08-04 09:53:39
Indonesia
Email:
Languages:
English
Hobbies/Interests:
Watch Movies, Singing, Dancing
Introduction:
Hi my name is Yosua. I want to have more friends from other countries.