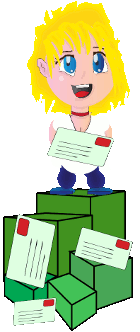 July 2018 to October 2018
Women between 25 and 39
results: 1 - 20 of 80
1 - Abdul Rahaman Fatima (25/F) - 2018-10-17 22:14:44
Ghana
Email:

Languages:
English & Other
Hobbies/Interests:
movies, singing, music and reading.
Introduction:
I was born on the 8th of April, 1993. I am a nursing student. I like reading, singing, movies, music, making and writing to friends and sharing about my culture as well as learning others. I hope to travel someday and meet people who can teach me about their country. I am very open minded and hope to have a long lasting friendship from anyone who writes. I wish to have friends all over the world, therefore anyone can write to me. so reply if you are interested.
Updated since 2014-01-24 14:11:52
2 - ada (25/F) - 2018-09-22 19:44:08
Senegal
Email:
Languages:
English, French & Spanish
Hobbies/Interests:
sport
Introduction:
Hi! I am delighted to be your concern. I live in Senegal Dakar in west Africa, . I once asked myself, the wait will never be in vain. I'm African, I look forward to receiving your acceptance to be in relationship with you . We will understand each other better. I wish all good things are always with you. Hope to hear from you. The kindness of an angel. I am sure that the correct try to contact me direct in my inbox for more introduction adagaye163@ gmail. com
Updated since 2018-09-22 19:38:25
3 - Amber (25/F) - 2018-09-17 13:15:08
United States
Email:
Languages:
English
Hobbies/Interests:
Sports, Hiking, Camping, Baking, Working Out, Painting, Road Trips, etc.
Introduction:
Hi my name is Amber! This is my first time trying this whole pen pal thing. I am really excited to meet new people and make friends around the world. I am currently a college student with a health science major. My goal is to one day become a physical therapist. If you would like to know more about me, please feel free to email me :)
4 - Amina Khan (25/F) - 2018-08-07 18:20:51
Canada
Email:
Languages:
English & Other
Hobbies/Interests:
Snail mail, handmade crafts, animals, writing, reading, politics
Introduction:
Hi everyone! My name is Amina Khan. I just turned 25 a few months ago. I was born and raised in Canada to immigrant parents. I love writing, reading and creating. I love learning about new things and talking to people with different opinions than mine. I love learning about new cultures and traditions from all around the world. And the idea of writing letters (snail mailing) to people around the world is so beautiful to me. I don't want to write too much here... Because I want to save a lot of interesting things for the first letter! Even though we live in a big world with billions of people... it can still get lonely sometimes. Let's cheer each other up with some letters and gifts! If you're interested in long-term or short-term snail mailing, sending/receiving postcards or small gifts, I'm the girl you want to connect with! I'm specifically looking for snail mailers. No emailing or text messages, please :) So again, if you are interested in snail mailing, send me an email: a. ramonakhan@ gmail. com age, gender, race doesn't matter to me! I love talking to all kinds of people!
5 - Catherine Female Mansell (25/F) - 2018-09-12 10:49:29
United Kingdom
Email:
Languages:
English
Hobbies/Interests:
Xbox One, Reading, Makeup, Pop! Figures, Dragon Ball Z
Introduction:
Hi! I'm Catherine, 25 and from the UK. I'd love email penpals from all over the world! I'm after females only between 21 & 35. If you're interested in becoming friends, please drop me a message.
6 - Dimples (25/F) - 2018-09-19 15:43:49
Philippines
Email:
Languages:
English & Other
Introduction:
hello! i took a very long hiatus on snail mailing bc of work and all the hectic schedule i had for the past 4 years. i am very excited to get back on track and actually talk to people and experience their lives by the stories they tell through letters. i am very much into music, zines, books, and traveling. i would love to talk about these things and all other things about you and your country. maybe you can talk to me about your pet and this one time you felt so alive. idk. i just know it'll be totally fun! we can also send each other postcards of the countries we are planning to visit and the ones we already visited. oh, i dont want to be too chatty here. i hope to talk to you very soon! :)
7 - Katie (25/F) - 2018-10-29 02:42:33
United States
Email:
Introduction:
Hi! I'm Katie. I am looking for a pen pal, or a few! :) I shattered my foot and ankle two years ago and just recently had to undergo my SIXTH surgery! :( so I have a lot of time of my hands!! I look forward to speaking with you!!
8 - Laysa Lucia de Souza (25/F) - 2018-10-01 09:26:14
Brazil
Email:
Languages:
English & Portuguese
Hobbies/Interests:
Snail Mail, Books, Music, Nature, Literature, Astronomy, Ancient History, Different Languages and Culture
Rua Severino Gaudêncio, 84, Distrito Industrial
Campina Grande
Paraíba
58414-690

Introduction:
Hey There! My name is Laysa Lúcia, 25 y. o., Brazilian and an Electrical Engineer :) I love reading any type of book and I consider myself an old fashion young-adult hahaha So, I have some penpals around the world, but I would like to get more. ONLY SNAIL MAIL, please. Anyone who want to write to me, please, do it, no matter your age, gender or where you are from :) I love astronomy, different culture, nature, animals, books, travelling and ancient History :D I am waiting for your letter! Byyee!
9 - Masika (25/F) - 2018-08-28 06:58:26
Uganda
Email:
HOPEWORTH CHILDREN FOUNDATION
P.0 BOX 151, KASESE
UGANDA EAST AFRICA

Introduction:
Hello! Am masika . i live in Uganda my whole life. I also have an opportunity to live in Rwanda for five years. I love travelling, snail mailing and learning new cultures. am open minded people +very adventurous. I dore learning new new things and ways on remaining physically active. At moment am working as a nurse. in my free time I run an orphanage which I founded two years ago. People usually describe me as the one who smiles alot, eccentric, adverous and easy going. Please feel free to send me an email or letter I promise to send back. Thanks alot
Updated since 2018-05-21 13:26:35
10 - Tina (25/F) - 2018-08-18 19:24:02
United States
Email:
Languages:
English
Hobbies/Interests:
Drawing, reading, writing, baking, crafts, working out, listening to music
7085 River Styx Rd
Medina, Ohio
44256

Introduction:
Hello everyone I am Tina. I am always looking for penpals; snail mail only!! I am willing to write to anyone anywhere even inmates just please dont be a creep, pervert or someone asking for money!! I am happily married. I love to write, draw, read, workout, be outdoors and go to concerts. I write long letters and contine to write so if you are in need of a friend send me a letter :)!!
Updated since 2018-07-11 13:35:27
11 - Anita Srdoc (26/F) - 2018-08-21 14:09:18
Croatia
Hobbies/Interests:
collecting postcards, music ...
Anita Srdoč
Rapska Ulica 28A
10000 Zagreb
Croatia

Introduction:
hello ! My name is Anita im 26 years old from Croatia Zagreb. Im married and i love so much my husband. I like walking, reading books , watching movies, writing letters to my penpals friends , photograph, listening music , sing and write songs . I collecting postcards. I'm interested in long letters and im looking penpals snail mail for a long time.
12 - Grace (26/F) - 2018-09-25 09:54:11
Rwanda
Email:
Introduction:
am here to meet someone kind honest and bored i will be glad to meet someone caring and also wish to relocate, it will be nice to be with you and also learn more culture and meet new people and share ideas and something good
13 - Leonie (26/F) - 2018-09-19 06:47:51
Australia
Email:
Languages:
English, German & Japanese
Hobbies/Interests:
The outdoors, fitness, gardening, crafts, reading...
Introduction:
I'm interested in snail mail. Feel free to get in contact if you enjoy writing and receiving handwritten letters.
Updated since 2018-08-19 16:59:41
14 - Lone Daisy (26/F) - 2018-09-20 11:58:32
South Africa
Email:
Languages:
English
Hobbies/Interests:
writing, singing, drawing, reading
Introduction:
I would really like to find someone I can connect with... on a heart, mind and soul level. Life is lonely, but if I could find someone to talk to and care for, it would give my world dimension. I don't really see the world the way a lot of other people do... I believe in things like respecting nature first before development, not being cut throat and greedy, no sex before marriage, and many other views on life. I have my flaws, a lot of them, but if there are people out there that would like to be my friend, send me an email. And if I find someone special, that would be amazing ♡
Updated since 2018-01-21 01:28:35
15 - Lorna Michel (26/F) - 2018-07-07 12:38:49
Ghana
Email:
Languages:
English, Portuguese & Other
Hobbies/Interests:
caring for the needy, email 📧, snailmail 🐌...
Lord Our Banner Homes
# OF 365
Offinso - Ashanti
Ghana

Introduction:
hello world ! I am ms. Lorna Michel the c. e. o of lord our banner homes. we are here to meet people who are interested in making friends with orphans and writing letters to the home with the help of books, pens, erasers, etc. currently the home house about 304 pupil with both genders. we will be glad to hear from you all who feel for us. we also welcome churches ⛪, individuals , government and non-governmental organizations who also wishes to visit us in Ghana . let's help raised these kids. you can also reach us on facebook : Lorna Michel
Updated since 2017-04-11 09:12:34
16 - MC (26/F) - 2018-08-18 00:16:19
United States
Email:

Introduction:
Hi everyone, please call me MC. I am 26, living in Atlanta, GA, USA. I am looking for a responsive and interesting pen-pal close to my own age to correspond with regularly. I prefer email mostly, but maybe instant messaging sometimes, and down the road maybe snail-mail. I am a very different kind of person, and don't usually fit in with the crowd. I am very polite, even to my friends, although I do have a sometimes dark and cynical sense of humor which can appear a little harsh until you get used to it. I put a lot of thought into whatever I'm doing, and I'm very analytical. I like to get to know other people. Not just what their interests are and what their everyday life is like, but also what made them who they are today - what got them to this point. I like to truly understand other people, so I enjoy deep and meaningful conversations. I like to get to know other people through a series of complex what-if questions. I like to ask people what they would do in crazy situations, and then add onto the question based on their answer. I find this really informative and sometimes extremely funny. I have a wide range of interests, and I'm always trying new things. I like to research different online scams and write articles about them, because this is a way to fight back by educating people about the risks we face in this digital age. I am a major travel enthusiast. I have been all over the continental US, and a few other countries, but I would like to do more international travel. I would like to go to Bali, Indonesia, Iceland, and Antarctica. Please, if you email me, tell me a bit more about yourself than "hi how are u?". No one wants to email a robot- esque entity, and you won't get a response from me. If you are a real and interesting person, I'd love to hear from you!
17 - Amy (27/F) - 2018-10-08 12:26:18
United States
Email:
Languages:
English
Hobbies/Interests:
Reading, Writing, Art, Crafts, Nature, Music, Travel
Amy C.
639 Square Street
Mount Joy, PA 17552
United States of America

Introduction:
I'm Amy, I am 27 years old and am looking for some new pen pals. I enjoy reading, writing, arts and crafts, hanging out with friends, being out in nature. I am a bit of an introvert. My favorite color is black and I am most defidently a night owl. I look forward to hearing from you!!! Amy P. S. Please no men
Updated since 2018-08-16 14:20:07
18 - bishakha (27/F) - 2018-09-19 14:33:27
India
Email:
Languages:
English
Hobbies/Interests:
sea bathing, watching sexy films and reading hot stuff, broadminded correspondence, sun bathing in hill stations
bishakhac/o devender kumar
welfare section, AG Audit,
AGCR Building, I.P.Estate
New Delhi 110002

Introduction:
Hi there! i am a young bisexual woman who is seeking inmteresting snail mail penpals from all over the world. Reply assured to all. Please write to me
19 - bishakha (27/F) - 2018-09-19 14:33:28
India
Email:
Languages:
English
Hobbies/Interests:
sea bathing, watching sexy films and reading hot stuff, broadminded correspondence, sun bathing in hill stations
bishakhac/o devender kumar
welfare section, AG Audit,
AGCR Building, I.P.Estate
New Delhi 110002

Introduction:
Hi there! i am a young bisexual woman who is seeking inmteresting snail mail penpals from all over the world. Reply assured to all. Please write to me
20 - bishakha (27/F) - 2018-09-19 14:33:29
India
Email:
Languages:
English
Hobbies/Interests:
sea bathing, watching sexy films and reading hot stuff, broadminded correspondence, sun bathing in hill stations
bishakhac/o devender kumar
welfare section, AG Audit,
AGCR Building, I.P.Estate
New Delhi 110002

Introduction:
Hi there! i am a young bisexual woman who is seeking inmteresting snail mail penpals from all over the world. Reply assured to all. Please write to me