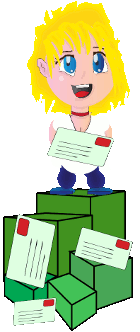 February 2019 to May 2019
Women 40 and more
results: 1 - 20 of 70
1 - Amanda (40/F) - 2019-03-14 19:41:16
Canada
Email:

Languages:
English
Hobbies/Interests:
perfesnal volunter
Introduction:
hello i am amanda i am 40 years old from ontario canada and i am looking for a pen pal
2 - Beth (40/F) - 2019-04-20 21:47:25
United States
Email:

Introduction:
Hi my name is Beth I live in untited states I am 40 yrs old and live on my own with my cat Oreo. my hobbies are reading, word search's and craft making , I love to work out at the gym and take off on the bus every now and then. when im not working that is. I work partime as a dishwasher. I have no kids and I am not looking for a Boyfriend. just friends. so if your looking for someone who will listern to you or just need a friend email me. no guys please.
3 - Ṃnica (40/F) - 2019-02-03 16:55:30
Spain
Email:
Languages:
English, Spanish & Other
Hobbies/Interests:
Music, art, history, football (soccer), going out with friends and travel
Introduction:
Hi! I'm a 40 year old female, living in Catalonia (northeastern Spain) wanting to have snail pals all around the world. I don't mind your gender, marital status, race, etc... I just want to meet nice friends.
4 - Sam (41/F) - 2019-02-14 13:56:02
Ethiopia
Email:
Languages:
English
Hobbies/Interests:
Reading, cooking, gardening, bowling, snailmail, watching biography and movies, long walk.
Introduction:
Hey folks! Welcome to my profile! Have a seat comfortable? A brief introduction about myself... My name is Semhal but everyone calls me Sam. Am single never been married and live alone but not lonely. My days are filled with fun and lots of interesting activities. I live in the center of the town. The area where I live is known for it's fruits and vegetables market. So I get to enjoy fresh veggies and fruits everyday. Am a special needs education teacher. I help kids who struggle in learning (dyslexia, autistic, ADD, downsyndrome) I work in inclusive school. We run the the special needs program with my colleague from Swiss. It's challenging but worth doing. On my break I like to go out of town, away from the crowds and noises of the city. I enjoy places with water. I love cooking. People say am a good cook😊 Italian is my favorite dish. Am a people person so I like to hangout with friends, group outings, early morning walks, reading books in a park, watching series TV shows, movies, bowling, making new friends, writing letters, exchange postcards and parcel from time to time, exercise, and I don't talk much but am a good listener and Charity work is what I enjoy doing. P. S I love to make friends from different parts of the world. I don't mind about your age, where you from as long as you are decent Looking forward to hear from you😊
Updated since 2019-02-04 09:42:51
5 - Elena (42/F) - 2019-03-27 22:19:56
Russia
Email:
Languages:
English & Other
Hobbies/Interests:
Poems, reading, photography, swimming, English
Introduction:
Hello! My name is Elena, (or Alena), as you like best. ) I live in Russia, in the city of Voronezh. Since childhood I have been writing poetry, and now I can proudly call myself a Russian poet. My favorite activities are reading, learning English and photography. Perhaps my favorite activities are more ... I just love life very much. I like to look at the snow, I love summer thunderstorms and rainbows, spring flowers and emerald June leaves on the trees. I love the rivers in which I swim looking at the sky. And, of course, I love the poems of great poets, and just good poems. I love literature and I live it. Here I want to find a friend whose letters I will enjoy, with whom you can talk about everything, about the bad and the good in our life. I want to meet clever and intill people. If you are familiar with the feeling of inner loneliness, if you want to share your feelings and experiences with someone, then I say to you: "Hello, I am so much like you." I would like my friend to be older than me, and I will be glad if you are much older. ... Spring is a time of renewal and new hopes, spring always wants a miracle. Will we know each other?
6 - melissa mendez (42/F) - 2019-02-12 23:20:35
United States
Email:

Languages:
English & Spanish
Hobbies/Interests:
cooking and reading
0779507
Mt View Unit
2305 ransom rd.
gatesville, texas. 76528

Introduction:
Im a very down to earth person who likes to learn and try new things Im advdentures. I am looking for loyal people from all over the world so i could learn different cultures I hope to meet some loyal people ages 29-60.
Updated since 2019-02-09 14:29:04
7 - Christie Smith (43/F) - 2019-04-26 02:29:56
United States
Email:
Languages:
English
Hobbies/Interests:
Reading, writing, sports fan, playing cards, going to movies, music
1114 Indiana Avenue
New Castle,,Indiana
47362

Introduction:
Mom of 2. Granny to 1 and one on the way. Wife. Christian. I love to sing. I am willing to write to anyone that needs a friend, but I am careful at the same time.
8 - Erin (43/F) - 2019-03-10 13:35:09
United States
Email:
Languages:
English & Spanish
Hobbies/Interests:
Writing, reading, learning, travel, perfumery, tarot, photography, esoterics, music, festivals, and on and on
Introduction:
Looking for just a few more long letter snail mail penpals. While I'm not one to make rules or have strict expectations about time frames, sending me things, stationery, who people can write to, etc... I am quite picky about who I correspond with. Age, gender, religion, race, location, etc... don't matter to me. What you do for a living and how much money you make are of no importance to me. The things which do matter to me, and qualities I am looking for in a penpal include the following: someone curious and intelligent, someone actively creative (I am a writer myself and I'd love to correspond with other writers, but also welcome the chance at contact with artists, musicians, thinkers, and creators), people who like to have meaningful discussions and develop deep connections, honest people who bleed their soul onto the page and are prepared to share more with me than weather reports and a brief synopsis of their day, readers, learners, travelers, people actively squeezing the marrow from life. If you are looking to truly connect and form a meaningful friendship, please contact me - introduce yourself and tell me why you think we'd be a good match.
9 - Gypsysha (43/F) - 2019-02-16 08:49:43
Australia
Email:
Hobbies/Interests:
Art, music, dance, writing, all things in nature, herbology, history, sociology, community development, exploring, camping, nomadic living
Introduction:
I'm a nomadic free spirit bushwoman carnie, and festival performer. I live in my bus and follow the sunny seasons and the festival trails around Australia. I'm often offgrid and love coming back into civilization to Penpal msgs. I'm an unusual person living an unusual life. I'm a cup half full kindv soul, spiritual, innovative and adaptable. I'd rather the spice of life, to a safe life; I prefer interesting, over comfort and have arranged my life so I have alot of freedom, mentally, physically, financially and culturally. I love diversity, believing humanness to be a Kaliedescope of wonder, for better and for worse. I welcome you into my world, and look forward to hearing about yours. FRIENDSHIP ONLY NO FLIRTING I am not interested in romance. NO SCAMMERS I will not give you money.
Updated since 2019-02-16 01:50:55
10 - Miss Patty D.O (43/F) - 2019-04-18 18:23:29
United States
Languages:
English & Spanish
Hobbies/Interests:
art , arts and crafts , art galleries, movies, watching travel channel, the beach, reading once in while, listening to music & theme parksand I'm autistic, love watching documentrys on Travel , History , science , and outerspace.
5029 W. 139st
Hawthorne
California
90250

Introduction:
Update on 3-13-19 . Hello I remain single and not dating and I am a Roman Catholic & autistic & seeking for compatible friends ages 27-52 from Europe and USA . I am also seeking for an expert mechanic in the USA who would like to volunteer to come fix my 2001 Honda engine ok. It had 1 cylinder rusting and by now I think it got worse. It had been opened up to try to clean it manually as a result can't remember to put it back together again . Help. Anyways ... I need my car to go job searching again . Thanks . And No prison pen pals plz. Thanks .
Updated since 2008-04-09 06:20:02
11 - Shakuntala (43/F) - 2019-04-05 10:30:15
India
Email:
Hobbies/Interests:
Painting, gardening, learning global history
Introduction:
Hi people, I m shakuntala from India. I would like to have friends who are honest and reliable in friendship where I need not to be hesitant before exchanging thoughts. I worked as a teacher for nearly 20 years and love craft and creative works. I wish to know more about people their cultures and history of their land. I wish all the people a beautiful and happy life ahead where everyone can make their dreams come true.
Updated since 2019-04-05 10:26:48
12 - melanie (45/F) - 2019-05-29 16:58:03
United States
Email:
Languages:
English
Hobbies/Interests:
biking and cooking bowling play darts etc
Updated since 2019-05-29 16:56:27
13 - Rouaida (45/F) - 2019-04-22 11:11:56
Syria
Email:
14 - sandra bryan (45/F) - 2019-04-12 19:08:38
United States
Email:
Hobbies/Interests:
animals. nature, meeting friends
sandra bryan
3749rt96
shortsvile new york
14548

Introduction:
hi i would love to hear from any1 lots of interests love snail mail, peace, sandra
15 - Sherry Harper (45/F) - 2019-03-23 00:26:50
Email:
Languages:
English
884 se jefferson street Dallas, OR 97338

Introduction:
My friend Sherry Harper is currently in Polk Co. Jail in Dallas, or and she is awaiting to eventually go to Dubin, Ca to be incarcerated in Federal Prison. Her charges are Conspiracy to Deliver and Shes in her early forties, black hair, brown eyed beauty. She needs some pen pals to occupy her time and only people who are only funny, loyal, and dedicated!!!! Write her at 884 SE Jefferson St. Dallas, OR 97338
Updated since 2019-03-23 00:26:26
16 - Stephanie Finley (45/F) - 2019-03-11 21:36:15
United States
Email:

Languages:
English
Hobbies/Interests:
Reading, writing letters, music, dancing, game night with family, road trips, movies, Netflix, Hulu, flea market and thrift store shopping, cats, owls.
129 East 32nd Street
South Sioux City , NE
68776
USA

Introduction:
Howdy, y'all! My name is Stephanie and I live here in exotic Nebraska with my two cats, Bob and Tony, and my brand new shiny husband, Troy. I just landed a fabulous job as a Wal-Mart check out girl. I love life! My life would be complete if the person's reading this would be my ever faithful pen pal. All it takes is pen and paper and a stamped envelope. Everybody has a story, what's yours? I'd like to hear from females between the ages 35 to 55. If you are male or incarcerated I won't write back. I'm interested in women who live in Canada, Ireland, Scotland, Wales, United Kingdom, France, Italy, Greece, Iceland, the Netherlands, Sweden, Switzerland, Eastern Europe, Russia, Australia and New Zealand. Any ladies in the states in the North West, South and North East. I'm a open minded person with a sarcastic sense of humor sometimes dark and twisty. I'm weird without even trying. I love sci-fi, fantasy, paranormal, classic rock, country music and dancing, the Royal family, super heros, baby goats ( my weakness), tea, tulips, lilacs, gummy bears, Oreos, boots. If I ever won the lottery I would buy a RV and travel all 49 states. I know there's 50 but I can't drive the RV over the ocean. ( Sorry, Hawaii). After that I would build a seclude mountain retreat in Montana and raise baby goats. My family can have the rest. Anyways write to me ! The longer the better !
17 - Tina Bowen (45/F) - 2019-03-31 15:40:43
United States
Email:
Languages:
English
Hobbies/Interests:
I like WWE wrestling, playing cards, watching movies,
Introduction:
I am married to my best friend and soulmate. I live in Maine. I have two children. We have a dog and cat. I am looking for postal penpals. Email me at tinbowen1990@ gmail. com
18 - Alla (46/F) - 2019-02-26 20:20:31
Ukraine
Email:
Languages:
English
Hobbies/Interests:
help people and get experience
Introduction:
Hello dears!) the first thing I want to say is that I absolutely real girl who is happy in this life and not going to ask for money or to deceive someone! it's not in my interest! I don't do anything wrong or advertise any shit.. but on the contrary help men as well as when it helped me! I am happy to find new friends with whom we will fight together with scammers and not only! I'll give advice to anyone who needs it.. wanna know how? someone had a sad experience?? write to me and I will share my experience will help us not to make mistakes! I am an honest and open girl who is always happy to have new friends and associates!=) waiting for you on my mail my new friend
19 - Bonnie Catlett (46/F) - 2019-05-14 09:58:25
United States
Email:
Languages:
English & Spanish
Hobbies/Interests:
GOD, my husband/sons, White Sox baseball, journaling, running, traveling, teacher, writing math curriculum, watching Netflix/Hulu
413 Flameleaf Lane
Cedar Hill, Texas 75104-4953

Introduction:
As of tomorrow, May 15, 2019, I will be 46 years old, but don't feel a day over 30. I married my high school sweetheart and together we've been blessed with 3 sons. I have a wide variety of interests. Snail pal writing is one of them and it's a delight to see that this website is still up and running from when I used it back in the late 90's. I'm a teacher of 6th grade students, so I keep up with what's new in the generations behind me. Pen palling has led to the creation of life long friends that I've had the pleasure to meet in person. So, send me a line if my bio interests you...
20 - Lorraine Alba (46/F) - 2019-04-22 15:27:00
United States
Email:
Hobbies/Interests:
Music, movies, reading, journaling, writing poetry, TV, cooking and baking, spending time with family, trying new recipes
3501 Olympic Ave
El Paso
TX
79904

Introduction:
Hi! I'm looking for female pen pals between 35-55 from the only USA, snail mail only. Since postage is so expensive over seas I cannot afford it right now. I'm happily married, so I will not accept letter or emails from any male. PLEASE NO MALES OR NO PRISONERS, I WILL NOT RESPOND. Can't wait to here from you you!
Updated since 2019-01-04 14:49:36