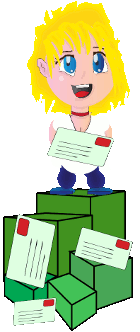 March 2019 to June 2019
Men between 25 and 39
results: 1 - 20 of 99
1 - Cameron (25/M) - 2019-04-14 11:44:50
England
Email:
Languages:
English & French
Hobbies/Interests:
Writing, cooking, photography, vinyl, reading
Introduction:
Iím Cameron; I live in bustling metropolitan capital of the United Kingdom which is known as London. Now I may share my first name with a former politician, who I shall not name for obvious reasons, but itís fair to say that we are not related in the slightest. Right now, Iím sipping on a cup of Lemon & Honey tea Ė Yes, I fit the British stereotype perfectly Ė and Iím currently thinking about how many people, at this moment, are making a cup of tea. Iím going to say 118, 906, 456. Why? Because I just think so. Who knows, I may be wrong! Iíve been snail mailing and writing letters for over five years now Ė and I came onto this site to expand my network of friends and snail mail correspondents. I like the simple things; give me a pen and a pad of paper and I shall write on and on and on and on! I guess studying three years of journalism at university has expanded my desire to be more creative with words and passages. I have over 250 letters sitting in multiple boxes; and I always want more! I want to sit down on a cold winterís day and read a letter fresh off the tip of a pen over a warm cup of coffee. All I want is to establish long term friendships; ideally through correspondence by snail mail or by postcards. I love the nostalgia surrounding the old art of letter writing; opening a crisp envelope and reading the handwritten contents of one's thoughts means more to me than most things.
2 - Boy09 (26/M) - 2019-06-23 08:37:07
Algeria
Email:
Languages:
English, French & German
Cite 130 Logements
Batiments N2 N8
Oued El Alleug Blida
Algerie

Introduction:
Hi, my name is Ouanes, I am 26 years old and living in Algeria. My hobbies reading books, movies, sport ( foot ball and swimming ) listen to music and programming and also traveling. Currently i'm working in algeriene chinese company as a senior technical IT - actually i would love to make friends from all the world . and we can exchange letters and gifts By snail mail and learn more about deffirent tradition with many Things.. . so don't by shy and just message me. And maybe we can build a nice friendship.
3 - BRIGHT AFIDEMENYO (26/M) - 2019-04-11 11:12:10
Ghana
Email:
Languages:
English
Hobbies/Interests:
SWIMMING, READING AND WRITING.
P. O. BOX 43, KPANDO AZIAVE, VOLTA REGION, GHANA.

Introduction:
I am a final year college student studying to become a teacher. I am 5ft 8inch tall and slim, I always visit the public library, I want penpal both female and male from any country.. I am having a pet (cat, goats sheep and dog) I hope to hear from you soon. take care and have fun.
Updated since 2013-12-23 20:04:51
4 - Lukong bruno (26/M) - 2019-04-30 14:38:30
Cameroun
Email:

5 - superbonnie2 (26/M) - 2019-05-31 14:35:23
Uganda
Email:
Languages:
English
Hobbies/Interests:
music, swimming, email, penpal, among other
Introduction:
Hi lovely people, am Bonny male from East Africa country Uganda. Looking for penpal friend from all over the world male or female to exchange language, culture, idea, daily experience and anything interesting. let get to know each other and explore the lovely side in the world of friendship hope to hear from you soon thanks. Bonny
Updated since 2018-08-25 13:32:37
6 - Bonnyfes (27/M) - 2019-04-16 07:00:56
Uganda
Email:
Languages:
English
Introduction:
Hello my name is Okwera Bonny male, born again Christian faith. Gospel singer and song writer. I'm honest, pilite, trusted and God fearing. am looking for penpal all the world and serious relationship with a serious woman to settle down and start a Family to share love and happiness in time of joy and happiness and sorrow together. i will be glad to be your historical, Geograpcal tutor in regards to my country Uganda which is in East Africa. whatsapp me +256785513910
7 - Giovanni Meza (27/M) - 2019-04-22 02:13:57
Email:
Languages:
English
Hobbies/Interests:
Reading, watching TV, listening to music
Giovanni Mesa AR-2694
SVSP
P.o box 1050
Soledad CA 93960

Introduction:
Hey my name is Giovanni and I am looking for someone to exchange letters I like to get to know all kinds of interesting people and am looking for someone to swap letters back and forth I am looking for a friend but if it turns into something else then we can explore it I hope to hear from you I am easy going and like to have fun
8 - Griffith A. Gabriel (27/M) - 2019-06-25 12:58:50
Ghana
Email:
Languages:
English
Introduction:
Hello, Greetings to you all.. My name is Gabriel. I'm a caring, kind and simple guy. In this world, everybody needs somebody to share ideas with, encourage, share special moments with and so on.. I would like to meet new friends to share with them everyday experiences, ideas, fun and more :) I love to do research, study online & wish to learn other cultures by making new friends. I wanna meet friends from all over the world irrespective of your country, age, color or whatsoever. We are all one people with the same red blood circulating in our systems. Just send me an email now and i will respond as soon as possible. I also like snail mail. its actually fun to receive letters with handwriting from friends. Just drop a message with a little self description if you find me interesting and let's start from there.. Waiting to read your email soon. Thanks!! Gabriel :)
Updated since 2018-02-20 13:20:15
9 - Leon (27/M) - 2019-03-20 16:45:26
United Kingdom
Email:

Languages:
English
Hobbies/Interests:
All types of things
66 Churchill Road
Great Yarmouth
Norfolk
NR30 4NH

Introduction:
Hi Iím Leon and I am 27 years old and my birthday is the 30th December. I was born in 1991 in a town called Great Yarmouth in the United Kingdom. One day I would love to travel the world. I am a down to earth guy and very happy. My hobbies are playing pool, football, darts, and WWE. I do have much more, but there is to much to write. I live at home still with my mum and little sister. I love all of my family and friends very much. I do like all kinds of animal accept from rats. I have One snake and a cat. I am currently working in bereavement. I have always lived in Great Yarmouth since I was born. There are quite a few attractions here and a nice holidays resort. I am seeking pen pals from all over the world to possibly do snail mail with me as I like to read and write letters and make loads of friends. I have been writing letters to friends for a long while and I enjoy it very much. I like to keep in touch with my pen pals and when I get letters sent to me I will read them straight away and reply to them with in the same week. feel free to message me at leonbarker1991@ hotmail. com
Updated since 2019-03-20 12:33:36
10 - Zvonimir (27/M) - 2019-04-29 13:52:59
Yugoslavia
Email:
Languages:
English
Hobbies/Interests:
email
Introduction:
Hi, its just sometimes borring to me, so i want to chat with people from around the world :) zvonimir. perkovic41@ gmail. com
11 - Agyeman Collins (28/M) - 2019-06-13 00:35:42
Ghana
Email:
Languages:
English & Other
Hobbies/Interests:
football
Introduction:
I am so pleased that u could find my mail in your inbox, I should admit that am very much interested in you and I hope to know more about you and about your vital interest. I must say here, that am looking for true friendship and I wish to find that in you at the same time a stable friendship no wars, and no games. Iím Agyeman Collins living in Ghana, I consider myself a very healthy individual at 28, I believe no matter how different we may be, when it comes to friendship we agree in sincerity, I as well believed in todayís world, neitherĒ race, nationality, age nor religions will not posse a barrier to male or female when it comes to friendship. Although we do not really know each other very well, so your regular communication is absolutely important to me, as I believe the more we communicate, the more we understands each other more. I have a strong personality, well that is really difficult to put in words but all in peace. I have to also admit that I don't know the differences between race and color. . My hobbies are reading, surfing the net, playing instrumentals, watching documentaries, listening to soft/gospel music and melodies when am alone and I also love learning of different cultures. I hate discrimination and racist, I love someone who is trustworthy and sincere. So if you cherish friendship as a spice of life, then you must understand that no matter how different we may be, when it comes to friendship we agree sincerely with an understanding.
12 - Nester (28/M) - 2019-06-02 06:28:29
Togo
Email:
Introduction:
looking for girls for relationship, anywhere in thť world.'ge does. not matter
13 - Nester (28/M) - 2019-06-02 06:31:24
Email:

Introduction:
looking for girls for relationship anywhere un thť world whatsapp 0022892625718
14 - PROPER MPEMBA (28/M) - 2019-03-25 03:40:40
Tanzania
Email:
Languages:
English
Hobbies/Interests:
football, friendship, relationship, travelling
Introduction:
hello, am Prosper Mpemba from Tanzania, a single man seeking some serious friends to teach KISWAHILI LANGUAGE,, if you are serious pls contact me, i hate scammers and fake people, no games here, pls contact me if you are a real and serious one,, can contact me through my whatsapp number, +255622529118, God bess you... here is my e-mail address, prospermpemba2@ gmail. com
15 - roscani47 (28/M) - 2019-03-13 04:24:24
Brunei
Email:
Introduction:
Earn Bitcoins while using the browser Now you can get Bitcoins right in your browser! Believe it or not, you' re just 1 click away from unique, online stream of income. Go through this link - and get your money!
16 - ShahidMasih12 (28/M) - 2019-06-26 03:17:59
Pakistan
Email:
Hobbies/Interests:
Friendship , Serving The Lord ,
Introduction:
Hello Everyone ; I am Shahid from Pakistan ; I am serving the Lord through orphans and poor children and teach the Bible to the children each Sunday ; so I am looking here good Christian friends all over the world ; anyone can be contact me on my email address >>>> shahid. praise. the. lord10@ gmail. com
Updated since 2017-03-22 09:36:25
17 - Wycliff (28/M) - 2019-06-08 03:44:32
Kenya
342 Nairobi Kenya

Introduction:
Wycliff from Kenya.. A country with beautiful fauna.. Im here looking forward to meeting new friends from all over the world +254726570344
18 - wycliff (28/M) - 2019-06-09 00:50:57
Kenya
140 Nairobi Kenya

Introduction:
Im here looking for gold buyers.. I trade in pure gold from DRC. wycliffobae@ yahoo. com
Updated since 2019-06-09 00:40:41
19 - Anh Tuan Nguyen (29/M) - 2019-04-08 22:02:00
United States
Languages:
English
Hobbies/Interests:
Reading/Writing
Anh Tuan Nguyen 02106057
2661 FM2054
Tennessee Colony, TX 75884
United States

Introduction:
Hello my name is Jason Nguyen, Anh T. Nguyen of course is my Vietnamese name. I am 29 this year and have spent the year incarcerated. The days are long so I'm looking for really anyone to talk with. I enjoy reading a variety of subjects from political and current events magazines, legal journals to my favorite fantasy books such as George RR Martin's Game of Thrones. I'm 5'7" about 15lbs, I work out four days out of the week for two hours and careful as to what I eat. I am not a health nut but I do watch my figure and try to develop my gut. Feel free to give me some tips. I love to cook and work out. I am Buddhist (Mahayana) and grew up a country boy. I played football in highschool, track, studied wingchun kung-fu. I spend my time reading and arguing rhetoric. I strive to fight for my freedom and innocence. I had grander ideals of being a professional singer and for my early years in college, provided vigorously enjoyed a little success in my collegiate music programs as well as my own local rock band. Enough about me, I would love to get to know more of the world if it offers me so. I am easily reached via snail mail and JPay. -Jason
Updated since 2019-04-08 21:57:00
20 - Collins Agyeman (29/M) - 2019-04-05 18:21:12
Ghana
Email:
Languages:
English & Other
Hobbies/Interests:
football, game
Introduction:
later is greater, let me here from u and we will lean more